Social media stresses compression of more with less. The more is information, the less is time. Time to read, react, and respond drives our need to process information from wider sources and shortened news cycles. Lean social media is an obvious need.
Individual and organization credibility can use a Lean approach in social media for more agile solutions to manage social media interaction.
There is little patience to wait for the morning paper, the 7pm national news or even 24-hour-news broadcasts any longer.
Live news streams in from all comers in all corners. People on-the-ground, without press credentials, yes, but with on-the-ground credibility, nonetheless.
Within 72 hours video of the February 15th meteor that streaked across the Russian sky had 138 million views; for some context 2011's Super Bowl audience was 108 million. The video was not captured by an official news outlet, the images came across smart phones and dashboard videos.
I May Not Hear You, but Anyone Can See You
Social media has set new communication expectation for prompt answers. No longer are people satisfied with communication within days or weeks, now expectations are answers or communication response within hours and minutes.
Approximately 30% of respondents told one survey that they expect companies to reply within hours when contacted via social media; 16.6% expect a response in less than 10 minutes; 13.1% less than an hour; 29.2% said within the same business day.
When asked how quickly they expect companies to respond to a question or complaint on Facebook and Twitter:
Across regions, 81% of Twitter users expect a same-day response to questions and complaints posted at the news feed
30% of Twitter users expect a response within 30 minutes, 22% expect a response within two hours and 29% expect a same-day response
29% of consumers on Facebook expect a response within two hours when they post a ques­tion at a company's page and 22% expect a same-day response*
Those who write emails expect immediate response.
Time demand is a balance between relevance and accuracy.
Social media expects a response. And not some canned response such as "we are looking into a solution and will get back to you".
The expectation is resolution and genuine empathy to resolve an issue. Without either, people move on.
Delays, such as cumbersome approval processes, stretch timely communication beyond relevance in three ways:
By the time you deliver, not only may your answer no longer be helpful, it may be irrelevant;
Effort to communicate or provide information is wasted; and
People move on
Lean to Learn
Fast does not correlate to accomplishment and accelerating poor process stresses credibility. Necessity provides great incentive to change. We borrow
A resource:
Time is a resource,
Money is a resource, and
Stock is a resource
The backbone of Lean is Just in Time strategy from Japan's continuous improvement culture. Lean and Just in Time were driven by constraints: land was/is a costly resource, so the ability to warehouse goods and take up precious space was beyond resources and constraints.
Business logic: why store items not immediately needed, the resources to purchase and store these items ties up resources used elsewhere.
From Just in Time to As it Happens
In Lean thinking there are 3 types of time:
Calendar time – Actual duration of a task from start to finish
Work time – Percentage of time that resources are available [difference between calendar and work reflects availability of resources]
Value added time – Amount of the work time that is actually value-added**
Value added time can be thought of as efficiency. In software design, teams who reuse code are efficient, they move fast with code already designed and tested not newly written.
A social media example to rapidly move information along use of currently available information. Always source and credit the information, but you increase value with your perspective. Move the conversation along and rapidly update as information unveils.
3 examples of Lean communication thinking where just in time is just enough:
Encyclopedia — Wikipedia can not compete with the depth of research Encyclopedia Britannica marshaled in print, but then again you could not get a quick update to your encyclopedia as easily as editing a website.

Is Wikipedia as accurate? No, but accurate enough and timely relevant.

Instructions — anyone who has purchased a gadget can choose to read the manual, many do not, which is why fast start or quick start guides, usually a page, have replaced extensive manuals.

A further Lean thought: want the manual? Go to the website and download and print it for yourself, with your ink and your paper.

Weather — Sure you can get the high-level weather from Television, but during Hurricane Sandy 25% of the 20 million tweets during Sandy were shared by people who were there, lending on-the-ground proof to those weather forecasts.
Speed shortens the timeline, but without a solid process speed affects quality. Doing something bad faster is not a sound strategy. Accelerated decision-making highlights poor decision-making.
A very real danger exists in not communicating enough to understand, but too much to get read. In Lean Startup, author Eric Ries talks about attention to release the minimum viable product: an early, low-cost, and functional version of the idea that allows rapid market entry and conceptual evolution.
With Lean thinking, failing early or minimum viable product, allows faster learning and faster product iteration cycles from feedback of what works. Good project management reviews what happened before too much investment on what may become pointless.
The same Lean value for social media communication gets the conversation seeded and provisioned to move the conversation along: 140 characters may launch the discussion better than a 7-paragraph blog or a 14-page white paper that requires a user enter their email to download.
In a follow-up post we will look at a Lean framework that is Agile for creativity and provides a host of design options.
Here is the Social Media in an Agile World March presentation delivered at Project Management Institute New York City chapter.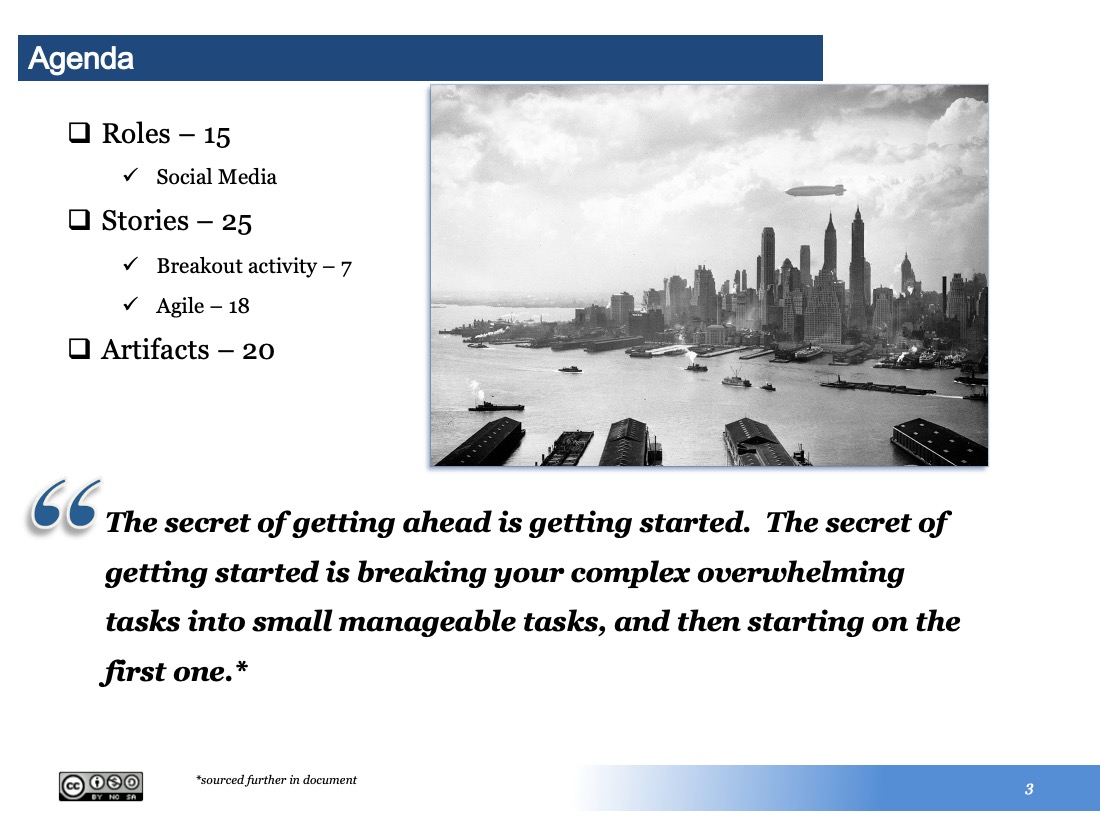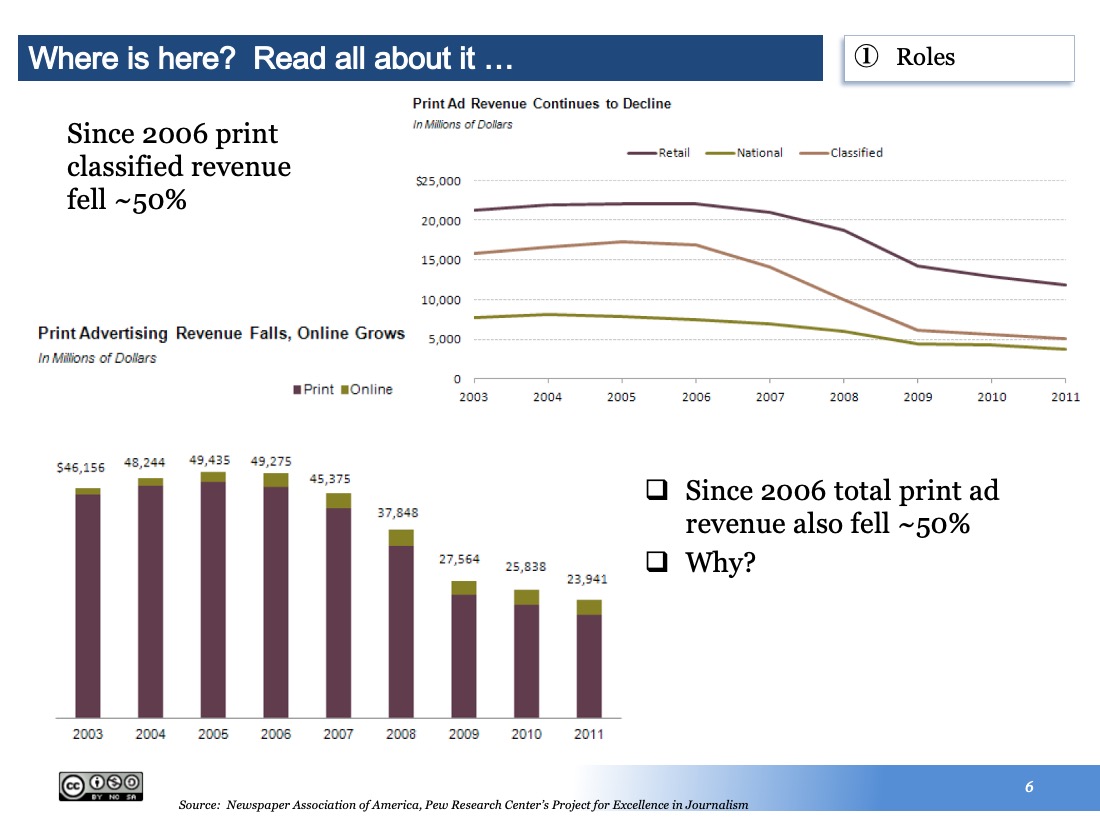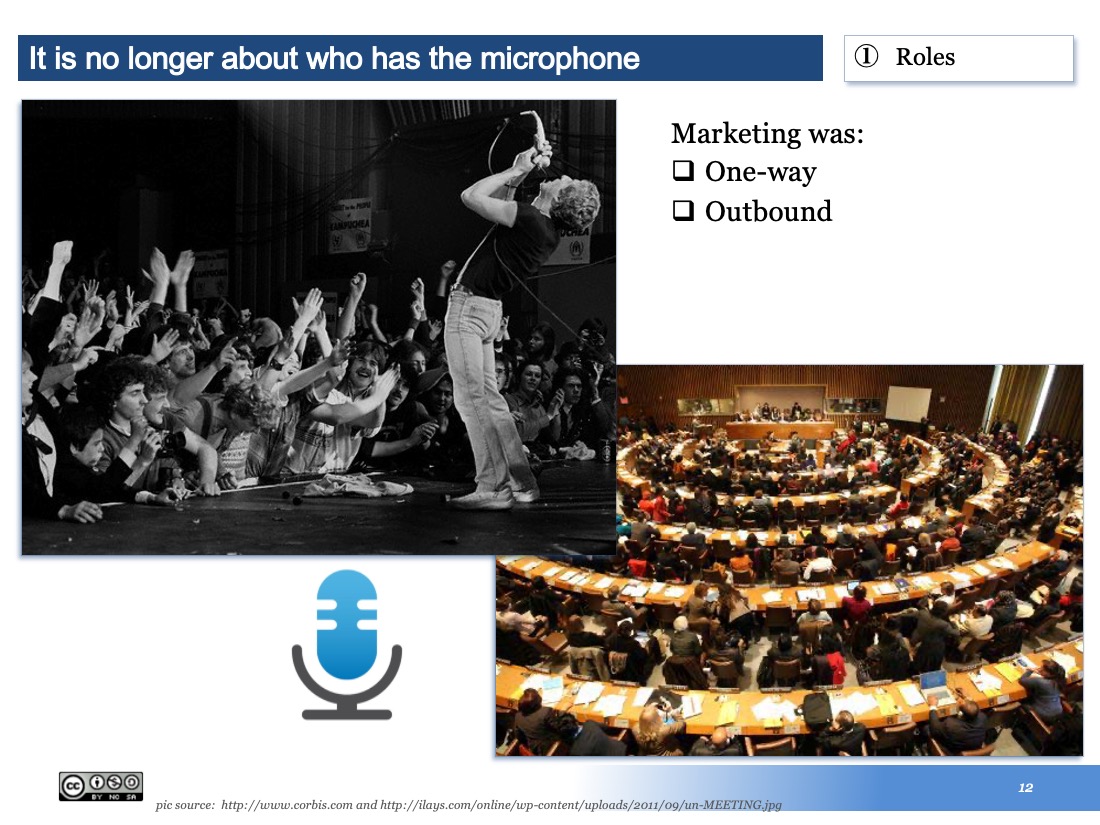 Lean into social media select sources:
*Oracle Consumer Views of Live Help Online 2012: A Global Perspective
**Building a Project-Driven Enterprise: How to Slash Waste and Boost Profits Through Lean Project Management. Technology Perspectives by Ronald Mascitelli